---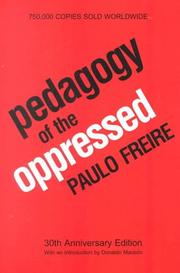 Pedagogy of the oppressedPaulo Freire; Continuum 2000WorldCat•LibraryThing•Google Books•BookFinder First published in Portuguese in 1968, Pedagogy of the Oppressed was translated and published in English in 1970. The methodology of the late Paulo Freire has helped to empower countless impoverished and illiterate people throughout the world. Freire's work has taken on especial urgency in the United States and Western Europe, where the creation of a permanent underclass among the underprivileged and minorities in cities and urban centers is increasingly accepted as the norm. With a substantive new introduction on Freire's life and the remarkable impact of this book by writer and Freire confidant and authority Donaldo Macedo, this anniversary edition of Pedagogy of the Oppressed will inspire a new generation of educators, students, and general readers for years to come.
For more information, visit www.pedagogyoftheoppressed.com.
---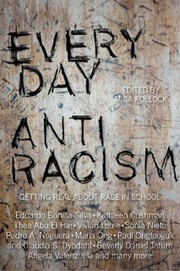 Everyday antiracism : getting real about race in schoolMica Pollock; W.W. Norton & Co. 2008WorldCat•LibraryThing•Google Books•BookFinder Which acts by educators are "racist" and which are "antiracist"? How can an educator constructively discuss complex issues of race with students and colleagues? In Everyday Antiracism, leading educators deal with the most challenging questions about race in school, offering invaluable and effective advice.
Contributors including Beverly Daniel Tatum, Sonia Nieto, and Pedro Noguera describe concrete ways to analyze classroom interactions that may or may not be "racial," deal with racial inequality and "diversity," and teach to high standards across racial lines. Topics range from using racial incidents as teachable moments and responding to the "n-word" to valuing students' home worlds, dealing daily with achievement gaps, and helping parents fight ethnic and racial misconceptions about their children. Questions following each essay prompt readers to examine and discuss everyday issues of race and opportunity in their own classrooms and schools.
For educators and parents determined to move beyond frustrations about race, Everyday Antiracism is an essential tool.
---
Pedagogy of hope: reliving Pedagogy of the Oppressed : Paulo FreirePaolo Freire; Continuum Publishing Group 2004WorldCat•LibraryThing•Google Books•BookFinder With Pedagogy of the Oppressed, Paulo Freire established his place in the universal history of education. Pedagogy of Hope represents a chronicle and synthesis of the ongoing social struggles of Latin America and the Third World since the landmark publication of Pedagogy of the Oppressed. Here, Freire once again explores his best-known analytical themes–with even deeper understanding and a greater wisdom. Certainly, all of these themes have to be analyzed as elements of a body of critical, liberationist pedagogy. In this book, we come to understand the author's pedagogical thinking even better, through the critical seriousness, humanistic objectivity, and engaged subjectivity which, in all of Freire's books, are always wedded to a unique creative innovativeness. Pedagogy of Hope is a testimonial to the inner vitality of generations that have not prospered, and to the often silent, generous strength of millions who refuse to let hope be extinguished: people throughout the world who have been empowered by Pedagogy of the Oppressed and all of Paulo Freire's writings.
---
Pedagogy of freedom: ethics, democracy, and civic couragePaulo Freire; Rowman & Littlefield Publishers 1998WorldCat•Read Online•LibraryThing•Google Books•BookFinder This book displays the striking creativity and profound insight that characterized Freire's work to the very end of his life-an uplifting and provocative exploration not only for educators, but also for all that learn and live.
---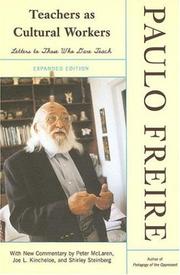 Teachers As Cultural Workers: Letters to Those Who Dare Teach; Westview Press 2006WorldCat•LibraryThing•Google Books•BookFinder In Teachers as Cultural Workers, Freire speaks directly to teachers about the lessons learned from a lifetime of experience as an educator and social theorist. Freire's words challenge all who teach to reflect critically on the meaning of the act of teaching as well as the meaning of learning. He shows why a teacher's success depends on a permanent commitment to learning and training, as part of an ongoing appraisal of classroom practice. By opening themselves to recognition of the different roads students take in order to learn, teachers will become involved in a continual reconstruction of their own paths of curiosity, opening the doors to habits of learning that will benefit everyone in the classroom. In essays new to this edition, well-known and respected educators Peter McLaren, Joe Kincheloe, and Shirley Steinberg add their reflections on the relevance of Freire's work to the study and practice of education across the globe.
---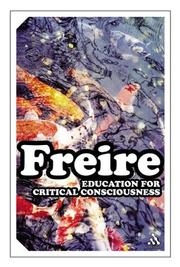 Education For Critical Consciousness (Continuum Impacts)Paulo Freire; Continuum International Publishing Group 2005WorldCat•Read Online•LibraryThing•Google Books•BookFinder
---
Pedagogy of the Heart
Paulo Freire; Bloomsbury Academic (August 1, 1998)
This book represents some of the last writings by Paulo Freire, who has been acclaimed one of the most important educators of the twentieth century. Pedagogy of the Heart is filled with Freire's reminiscences of his early life and meditations "under my mango tree." These meditations include discussions of solitude and community, the limit of the Right, neoliberals and progressives, lessons from exile, the Lefts and the Right, dialogism, and faith and hope. Many of these subjects will be familiar to those who have read Freire before. For those coming to Freire for the first time, Pedagogy of the Heart will open new doors to the interrelations of education and political struggle. Further enhancing the text are substantive notes by Ana Maria Aranjo Freire.
---
The Politics of Education: Culture, Power and Liberation
Paulo Freire, Henry A. Giroux (Introduction), Donaldo Macedo (Translator); Bergin & Garvey Publishers; 1st edition (January 30, 1985)
Contributes to a radical formulation of pedagogy through its revitalization of language, utopianism, and revolutionary message. . . . The book enlarges our vision with each reading, until the meanings become our own. Harvard Educational Review
Constitutes the voice of a great teacher who has managed to replace the melancholic and despairing discourse of the post-modern Left with possibility and human compassion. Educational Theory
---
A Pedagogy for Liberation: Dialogues on Transforming Education
Ira Shor (Author); Praeger (November 30, 1986)
… one of the most important books for American teachers. . . . If you teach, read it on one of the days when you want to quit. You'll either keep teaching or quit with a clearer head. Democratic Schools
Highly recommended. . . . Written in a rather interesting manner–primarily as a conversation–this book serves nicely as an informal yet rigorous treatment of critical pedagogy. There is a satisfactory blend of theoretical investigation and practical personal anecdote. . . . The text is well researched. Choice
---
Dear Paulo: Letters from Those Who Dare Teach (Series in Critical Narrative)
Sonia Nieto (Author); Paradigm Publishers (September 1, 2008)
Dear Paulo: Letters from Those Who Dare Teach is a heartfelt response from teachers, academics, and community workers to the work of the internationally renowned educator and author Paulo Freire. From newly minted teachers terrified of facing their first day in the classroom to seasoned academics whose work has largely been inspired by Freire, this collection is both a loving memorial and a call to action to work for social justice, praxis, and democracy, ideals envisioned and brilliantly articulated by Paulo.
---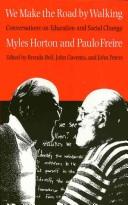 We Make the Road by Walking: Conversations on Education and Social ChangePaulo Freire; Temple University Press 1991WorldCat•Read Online•LibraryThing•Google Books•BookFinder This dialogue between two of the most prominent thinkers on social change in the twentieth century was certainly a meeting of giants. Throughout their highly personal conversations recorded here, Horton and Freire discuss the nature of social change and empowerment and their individual literacy campaigns. The ideas of these men developed through two very different channels: Horton's, from the Highlander Center, a small, independent residential education center situated outside the formal schooling system and the state; Freire's, from within university and state-sponsored programs. Myles Horton, who died in January 1990, was a major figure in the civil rights movement and founder of the Highlander Folk School, later the highlander Research and Education Center. Paulo Freire, author of "Pedagogy of the Oppressed", established the Popular Culture Movement in Recife, Brazil's poorest region, and later was named head of the New National Literacy Campaign until a military coup forced his exile from Brazil. He has been active in educational development programs worldwide. For both men, real liberation is achieved through popular participation. The themes they discuss illuminate problems faced by educators and activists around the world who are concerned with linking participatory education to the practice of liberation and social change. How could two men, working in such different social spaces and times, arrive at similar ideas and methods? These conversations answer that question in rich detail and engaging anecdotes, and show that, underlying the philosophy of both, is the idea that theory emanates from practice and that knowledge grows from and is a reflection of social experience. Brenda Bell is administrator of a regional volunteer organization and a consultant and a member of the Advisory Board for the Center for Literacy Studies at the University of Tennessee. John Gaventa is Director of the Highlander Research and Education Center and Assistant Professor of Sociology at the University of Tennessee. He co-edited (with Barbara Ellen Smith and Alex Willingham) "Communities in Economic Crisis: Appalachia and the South" (Temple). John Peters is Professor of Adult Education at the University of Tennessee.
---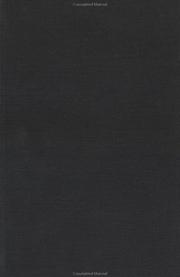 Letters to Cristina: reflections on my life and workPaulo Freire; Routledge 1996WorldCat•Read Online•LibraryThing•Google Books•BookFinder Paulo Freire is regarded by many as the most significant educational thinker of the twentieth century. This volume offers Freire's own intimate retrospection of his life and work. These reflections, dedicated to his niece Cristina, provide a backdrop for a deeper understanding of how his experiences are linked to his philosophical and pedagogical work.
---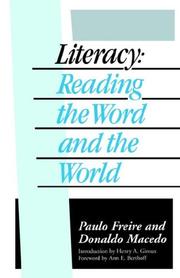 Literacy: Reading the Word and the WorldPaulo Freire; Routledge 1987WorldCat•LibraryThing•Google Books•BookFinder Freire and Macedo analyse the connection between literacy and politics according to whether it produces existing social relations, or introduces a new set of cultural practices that promote democratic and emancipatory change.
---
Why We TeachSonia Nieto; Teachers College Press 2005WorldCat•LibraryThing•Google Books•BookFinder Why teach? Listen to the voices of both veteran and new teachers as they share their most heartfelt and thoughtful replies to this simple but important question. Sonia Nieto, a distinguished teacher in her own right, has gathered the insights and inspirations of K–12 classroom teachers as they examine how and why they find purpose and value in the work they do.
The teachers in this book, like so many across the country, do the kind of work that may not grab headlines but is far more important than even the highest test score: These teachers listen closely to their students. They share in their students' struggles and successes. They create a classroom climate that encourages growth, direction, and purpose. They help students develop into thoughtful, engaged citizens. The teachers in this book show us the kinds of learning that really matter, and the kinds of lessons that students can take with them for their entire lives.
This inspirational book focuses on the quintessential values of teaching, challenges current notions that focus on only accountability, testing, and standardization, and provide a compelling message of hope for public education.
---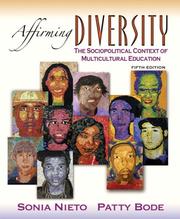 Affirming Diversity: The Sociopolitical Context of Multicultural Education (5th Edition)Sonia Nieto; Allyn & Bacon 2007WorldCat•LibraryThing•Google Books•BookFinder In this fifth edition of her best-selling book Affirming Diversity: The Sociopolitical Context of Multicultural Education, renowned scholar Sonia Nieto explores the meaning, necessity, and benefits of multicultural education for students of all backgrounds. Intended for preservice and in-service teachers and educators, this book looks at how personal, social, political, cultural, and educational factors affect the success or failure of students in today's classroom. Expanding upon the popular case-study approach, the fifth edition also examines the lives of 19 real students who are affected by multicultural education, or a lack of it. Topics include racial, linguistic, religious, cultural, and sexual diversity. Social justice is firmly embedded in this view of multicultural education, and teachers are encouraged to work for social change in their classrooms, schools, and communities.
---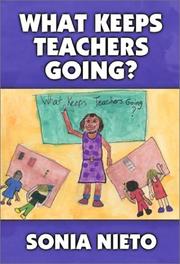 What Keeps Teachers Going?Sonia Nieto; Teachers College Press 2003WorldCat•LibraryThing•Google Books•BookFinder What helps great public school teachers persevere – in spite of everything? Sonia Nieto, a teacher educator, takes a close look at what can be learned from veteran teachers who not only continue to teach but also manage to remain enthusiastic about it.
---
Affirming Diversity: The Sociopolitical Context of Multicultural Education, MyLabSchool Edition (4th Edition)
Sonia Nieto (Author); Allyn & Bacon; 4 edition (December 21, 2004)
In this revision of her best-selling text, author Sonia Nieto explores the meaning, necessity, and benefits of multicultural education for students of all backgrounds. The text looks at how personal, social, political, cultural, and educational factors affect the success or failure of students in today's classroom. Expanding upon the popular case-study approach, the fourth edition examines the lives of 18 real students who are affected by multicultural education, or a lack of it. Social justice is firmly embedded in this view of multicultural education, and teachers are encouraged to work for social change in their classrooms, schools, and communities.
---
Life in schools: an introduction to critical pedagogy in the foundations of educationPeter McLaren; Pearson/Allyn and Bacon 2007WorldCat•LibraryThing•Google Books•BookFinder
This text is a provocative investigation of the political, social, and economic factors underlying classroom practices, offering a unique introduction to the contemporary field of critical pedagogy. Life in Schools features excerpts from the author's best-selling work, Cries from the Corridor: The New Suburban Ghetto. The text provokes analytic discussion of social problems and a theoretical framework for formulating potential solutions (Parts III & IV). It also includes a new discussion of race and class, a chapter on the social construction of whiteness, and a new chapter that challenges current domestic and foreign policies of the current White House administration (including the No Child Left Behind Act) and their impact upon American public schooling.
---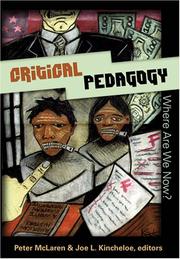 Critical Pedagogy: Where Are We Now? (Counterpoints: Studies in the Postmodern Theory of Education); Peter Lang Publishing 2007WorldCat•LibraryThing•Google Books•BookFinder
Our educational system is in turmoil. Many would argue that it has been assaulted and oversimplified by the right. There is growing concern that we are becoming a liberal nation-state with an increasingly anti-liberal population and an electorate that is disinterested in politics. In this globalized world, the power of capital is so great that opposition to it is often discouraged and disheartened, leaving many citizens few political precepts by which to consider their institutions. This contemporary failure of vision has opened the way for the unimpeded return of the philosophy of the free market. As a result, social and educational policies are debated almost solely in terms of how they fit with the needs of the market. Social and ethical understandings are replaced by a failed economic theory that requires a radical constraint of our political and economic choices. Compassion for the poor, the market lets us know, is wrong-headed because any interference with the labor market will always result in unfortunate economic and social consequences. Moral issues are eclipsed by market needs. In Critical Pedagogy: Where Are We Now? the contributors discuss how the field of critical pedagogy should respond to such dire conditions in a way that is theoretically savvy and visionary, while concurrently contributing to the struggle to improve the lives of those most hurt by them. Critical Pedagogy is essential reading for every classroom teacher and pre-service teacher. It is also a valuable tool for use in undergraduate and graduate-level classrooms.
---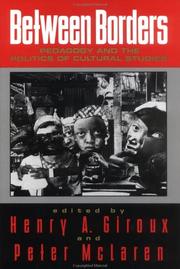 Between borders: pedagogy and the politics of cultural studiesHenry A. Giroux, Peter McLaren.; Routledge 1994WorldCat•LibraryThing•Google Books•BookFinder
Informed by the belief that critical pedagogy must move beyond the classroom if it is to be truly effective, this essay collection makes clear how cultural practices–as portrayed in film, sports, and in the classroom itself–enable cultural studies to deepen its own political possibilities and to construct diverse geographies of identity, representation and place.
Contributors: Henry A. Giroux, Ava Collins, Nancy Fraser, Carol Becker, bell hooks, Michael Eric Dyson, Roger I. Simon, Chandra Talpede Mohanty, Simon Watney, Michele Wallace, Peter McLaren, David Trend, Abdul R. JanMohamed and Kenneth Mostern.
---
The politics of multiculturalism and bilingual education: students and teachers caught in the cross fireeditors, Carlos J. Ovando, Peter McLaren.; McGraw-Hill 2000WorldCat•LibraryThing•Google Books•BookFinder
This contributed-to text provides a balance between theory and application to examine the contested political and pedagogical issues surrounding multiculturalism and bilingual education in the United States. The engaging voices and styles are woven together to create a unified, student-accessible text which provides a realistic account of the issues of multicultural and bilingual education facing teachers today. The first part of the book establishes a conceptual framework for the book. The second part sets the context for reflection and action for students and teachers in the cross fire. The contributing writers examine topics in light of the current and forthcoming demographic shifts in the United States during the next century, suggesting a country increasingly divided along class lines, browner, urban, and multilingual; with a teaching force comprised mostly of white, middle-class females. Authored by some of the leading and more engaging voices in the field of multilingual and bilingual education, the book is designed to help students and teachers develop informed mind sets related to the highly contested political and pedagogical issues surrounding pluralistic schooling in our society.
---
Multicultural education, critical pedagogy, and the politics of differenceedited by Christine E. Sleeter and Peter L. McLaren.; State University of New York Press 1995WorldCat•LibraryThing•Google Books•BookFinder
This book explores and expands upon linkages between multicultural education and critical pedagogy, drawing on the shared goal of challenging oppressive social relationships.
"Here is a comprehensive view of leading theories and practices of multicultural education from scholars of various racial and ethnic groups. The perspectives of those often left out of scholarly debate are well represented in this book. Those perspectives offer significant insights into the ways in which dominant ideologies and classroom practices have functioned to serve only one segment of the American population. The connections between multicultural education and critical pedagogy are brought into clear focus and illustrate how different ways of teaching and learning can benefit all students instead of just a few." — Sandra M. Lawrence, Mount Holyoke College
---
Paulo Freire and the curriculumGiōrgos Grollios; Paradigm Publishers 2009WorldCat•LibraryThing•Google Books•BookFinder
How can Paulo Freire s progressive and vital contributions to curriculum planning can be made more relevant today for educators, policy makers and anybody involved in education? This book provides a necessary framework as it articulates significant questions. The first deals with Freire s positions on curriculum planning, the second is devoted to the historical development and the character of his perspective on curriculum planning, and the third refers to the ways his perspective compares to others, as well as to its contemporary value.
Freire s perspective comes into direct conflict with traditional views on curriculum planning, the content of which represents what is perceived as the highest expression of Western civilization. Freire also breaks with the dominant perspective of social efficiency on curriculum planning whose main aim is to supply, via behavioral objectives, the knowledge and skills deemed necessary for the efficient function of the economy and the society, treats learners as passive receivers of knowledge, and assigns to curriculum a technical character disarticulated from social, political or ideological conflicts. In addition, he does not focus on studying the learner in an abstract or a-historical framework, nor does he adopt an individualistic interpretation which fetishizes spontaneity.
In contrast to traditional perspectives on the curriculum, Freire provides a fertile ground for teachers and any others who seek to transform schools and improve student s learning and lives.
---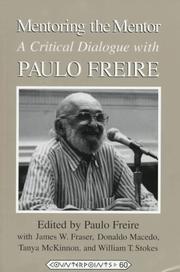 Mentoring the mentor: a critical dialogue with Paulo Freireedited by Paulo Freire with James W. Fraser ... [et al.].; P. Lang 1997WorldCat•LibraryThing•Google Books•BookFinder
Mentoring the Mentor recreates a Freirian dialogue in a printed format. In this volume, sixteen distinguished scholars engage in a critical and thoughtful exchange with Paulo Freire. While some contributors voice appreciation for Freire's ideas and for what it means to «reinvent Freire» in a North American context, others offer sharp critiques of Freire's philosophy and, of equal importance, of the various interpretations of his work. A variety of chapters describe specific uses which have been made of Freire's ideas in diverse educational contexts, from the New York City public schools to the revolutions in Guinea Bissau and Eritrea. Finally, Paulo Freire himself responds to the major issues which are raised in the volume and invites readers to share in a continuing lively dialogue about the meaning of democratic and revolutionary education.
«The fundamental task of the mentor is a liberatory task. It is not to encourage the mentor's goals and aspirations and dreams to be reproduced in the mentees, the students, but to give rise to the possibility that the students become the owners of their own history. This is how I understand the need that teachers have to transcend their merely instructive task and to assume the ethical posture of a mentor who truly believes in the total autonomy, freedom, and development of those he or she mentors.» (from Chapter Sixteen, «A Response» by Paulo Freire)
---
Pedagogy of Dreaming the Possible.Paulo Freire; Paradigm Publishers WorldCat•LibraryThing•Google Books•BookFinder
Challenging us to recognize our "unfinished" selves, Freire's uplifting message urges citizens, students, parents, and teachers to discover new horizons of hope and possibility for a better world. Connecting the personal with the political, Freire's voice is as profound as it is inspiring, guiding us through the everyday acts of observation and critical thinking that link personal creativity with the prospects of a just and more humane society. One's capacity to dream, to reach, and to engage with a troubles world are the essence of a meaningful and liberating life.
---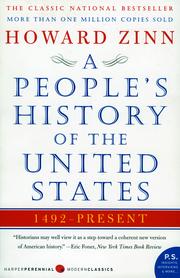 A People's History of the United States: 1492–PresentHoward Zinn; HarperPerennial Modern Classics 2005WorldCat•LibraryThing•Google Books•BookFinder
"It's a wonderful, splendid book—a book that should be read by every American, student or otherwise, who wants to understand his country, its true history, and its hope for the future." —Howard Fast, author of Spartacus and The Immigrants
"[It] should be required reading." —Eric Foner, New York Times Book Review
Library Journal calls Howard Zinn's iconic A People's History of the United States "a brilliant and moving history of the American people from the point of view of those…whose plight has been largely omitted from most histories." Packed with vivid details and telling quotations, Zinn's award-winning classic continues to revolutionize the way American history is taught and remembered. Frequent appearances in popular media such as The Sopranos, The Simpsons, Good Will Hunting, and the History Channel documentary The People Speak testify to Zinn's ability to bridge the generation gap with enduring insights into the birth, development, and destiny of the nation.
---
Lies my teacher told me: everything your American history textbook got wrongJames W Loewen; Simon & Schuster 2007WorldCat•Read Online•LibraryThing•Google Books•BookFinder
This updated and revised edition of the American Book Award-winner and national bestseller revitalizes the truth of America's history, explores how myths continue to be perpetrated, and includes a new chapter on 9/11 and the Iraq War.
Americans have lost touch with their history, and in Lies My Teacher Told Me Professor James Loewen shows why. After surveying eighteen leading high school American history texts, he has concluded that not one does a decent job of making history interesting or memorable. Marred by an embarrassing combination of blind patriotism, mindless optimism, sheer misinformation, and outright lies, these books omit almost all the ambiguity, passion, conflict, and drama from our past.
In this revised edition, packed with updated material, Loewen explores how historical myths continue to be perpetuated in today's climate and adds an eye-opening chapter on the lies surrounding 9/11 and the Iraq War. From the truth about Columbus's historic voyages to an honest evaluation of our national leaders, Loewen revives our history, restoring the vitality and relevance it truly possesses.
Thought provoking, nonpartisan, and often shocking, Loewen unveils the real America in this iconoclastic classic beloved by high school teachers, history buffs, and enlightened citizens across the country.
---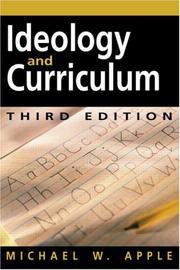 Ideology and CurriculumMichael W. Apple; Routledge 2004WorldCat•LibraryThing•Google Books•BookFinder
To celebrate the 25th anniversary of its publication, Michael W. Apple has thoroughly updated his influential text, and written a new preface. The new edition also includes an extended interview circa 2001, in which Apple relates the critical agenda outlined in Ideology and Curriculum to the more contemporary conservative climate. Finally, a new chapter titled "Pedagogy, Patriotism and Democracy: Ideology and Education After 9/11" is also included.
---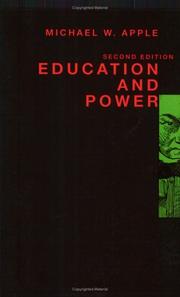 Education and powerMichael W. Apple; Routledge 1995WorldCat•LibraryThing•Google Books•BookFinder
In his seminal volume first published in 1982 Michael Apple articulates his theory on educational institutions and the reproduction of unequal power relations and provides a thorough examination of the ways in which race-gender-class dynamics are embedded in, and reflected through, curricular issues. This second edition contains a re-examination of earlier arguments as well as reflections on recent changes in education.
---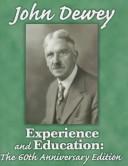 Experience and educationJohn Dewey; Kappa Delta Pi 1998WorldCat•LibraryThing•Google Books•BookFinder
Experience and Education is the best concise statement on education ever published by John Dewey, the man acknowledged to be the pre-eminent educational theorist of the twentieth century. Written more than two decades after Democracy and Education (Dewey's most comprehensive statement of his position in educational philosophy), this book demonstrates how Dewey reformulated his ideas as a result of his intervening experience with the progressive schools and in the light of the criticisms his theories had received.
Analyzing both "traditional" and "progressive" education, Dr. Dewey here insists that neither the old nor the new education is adequate and that each is miseducative because neither of them applies the principles of a carefully developed philosophy of experience. Many pages of this volume illustrate Dr. Dewey's ideas for a philosophy of experience and its relation to education. He particularly urges that all teachers and educators looking for a new movement in education should think in terms of the deeped and larger issues of education rather than in terms of some divisive "ism" about education, even such an "ism" as "progressivism." His philosophy, here expressed in its most essential, most readable form, predicates an American educational system that respects all sources of experience, on that offers a true learning situation that is both historical and social, both orderly and dynamic.
---
Democracy and Education
John Dewey (Author); Merchant Books (April 24, 2009)
An Unabridged Edition – Chapters Include, Though Are Not Limited To: Education As A Necessity Of Life – Education As A Social Function – Education As Direction – Education As Growth – Preparation, Unfolding, And Formal Discipline – Education As Conservative And Progressive – The Democratic Conception In Education – Aims In Education – Natural Development And Social Efficiency As Aims – Interest And Discipline – Experience And Thinking – Thinking In Education – The Nature Of Method – The Nature Of Subject Matter – Play And Work In The Curriculum – The Significance Of Geography And History – Science In The Course Of Study – Educational Values – Labor And Leisure – Intellectual And Practical Studies – Physical And Social Studies: Naturalism And Humanism – The Individual And The World – Vocational Aspects Of Education – Philosophy Of Education – Theories Of Knowledge – Theories Of Morals
---
How We Think
John Dewey (Author); Book Jungle (July 28, 2008)
Arguably the most influential thinker on education in the twentieth century, Dewey's contribution lies along several fronts. His attention to experience and reflection, democracy and community, and to environments for learning have been seminal.
---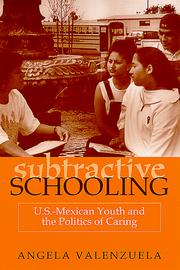 Subtractive schooling: U.S.-Mexican youth and the politics of caringAngela Valenzuela; State University of New York Press 1999WorldCat•LibraryThing•Google Books•BookFinder
Subtractive Schooling provides a framework for understanding the patterns of immigrant achievement and U.S.-born underachievement frequently noted in the literature and observed by the author in her ethnographic account of regular-track youth attending a comprehensive, virtually all-Mexican, inner-city high school in Houston. Valenzuela argues that schools subtract resources from youth in two major ways: firstly by dismissing their definition of education and secondly, through assimilationist policies and practices that minimize their culture and language. A key consequence is the erosion of students' social capital evident in the absence of academically-oriented networks among acculturated, U.S.-born youth.
---
Leaving children behind: why Texas-style accountability fails Latino youthedited by Angela Valenzuela.; State University of New York Press 2005WorldCat•LibraryThing•Google Books•BookFinder
Argues for a more valid and democratic approach to assessment and accountability.
From the Publisher
The federal government has based much of its education policies on those adopted in Texas. This book examines how "Texas-style" accountability—the notion that decisions governing retention, promotion, and graduation should be based on a single test score—fails Latina/o youth and their communities. The contributors, many of them from Texas, scrutinize state policies concerning high-stakes testing and provide new data that demonstrate how Texas' current system of testing results in a plethora of new inequalities. They argue that Texas policies exacerbate historic inequities, fail to accommodate the needs and abilities of English language learners, and that the dramatic educational improvement attributed to Texas' system of accountability is itself questionable. The book proposes a more valid and democratic approach to assessment and accountability that would combine standardized examinations with multiple sources of information about a student's academic performance.
About the Author
Angela Valenzuela is Associate Professor of Curriculum and Instruction and Mexican American Studies at the University of Texas at Austin.
---
Racism without Racists: Color-Blind Racism and the Persistence of Racial Inequality in the United StatesEduardo Bonilla-Silva; Rowman & Littlefield Publishers, Inc. 2006WorldCat•LibraryThing•Google Books•BookFinder
The first edition of this best-selling book showed that alongside the subtle forms of discrimination typical of the post-Civil Rights era, new powerful ideology of "color-blind racism" has emerged. Bonilla-Silva documented how beneath the rhetorical maze of contemporary racial discourse lies a full-blown arsenal of arguments, phrases, and stories that whites use to account for and ultimately justify racial inequities.
In the new edition Bonilla-Silva has added a chapter dealing with the future of racial stratification in America that goes beyond the white / black dichotomy. He argues that the U.S. is developing a more complex and apparently "plural" racial order that will mimic Latin American patterns of racial stratification. Another new chapter addresses a variety of questions from readers of the first edition. And he has updated the book throughout with new information, data, and references where appropriate. The book ends with a new Postscript, "What is to be Done (For Real?)". As in the highly acclaimed first edition, Bonilla-Silva continues to challenge color-blind thinking.
---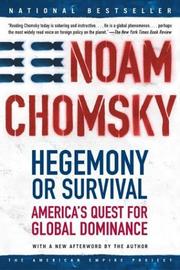 Hegemony or survival: America's quest for global dominanceNoam Chomsky; Henry Holt 2004WorldCat•Read Online•LibraryThing•Google Books•BookFinder
"Reading Chomsky today is sobering and instructive . . . He is a global phenomenon . . . perhaps the most widely read voice on foreign policy on the planet." -The New York Times Book Review
An immediate national bestseller, Hegemony or Survival demonstrates how, for more than half a century the United States has been pursuing a grand imperial strategy with the aim of staking out the globe. Our leaders have shown themselves willing-as in the Cuban missile crisis-to follow the dream of dominance no matter how high the risks. World-renowned intellectual Noam Chomsky investigates how we came to this perilous moment and why our rulers are willing to jeopardize the future of our species.
With the striking logic that is his trademark, Chomsky tracks the U.S. government's aggressive pursuit of "full spectrum dominance" and vividly lays out how the most recent manifestations of the politics of global control-from unilateralism to the dismantling of international agreements to state terrorism-cohere in a drive for hegemony that ultimately threatens our existence. Lucidly written, thoroughly documented, and featuring a new afterword by the author, Hegemony or Survival is a definitive statement from one of today's most influential thinkers.
---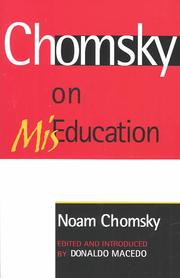 Chomsky on Mis-EducationNoam Chomsky; Rowman & Littlefield Publishers, Inc. 2004WorldCat•LibraryThing•Google Books•BookFinder
In this book, Chomsky builds a larger understanding of our educational needs, starting with the changing role of schools today, yet broadening our view toward new models of public education for citizenship.
---
Engaging Paulo Freire's pedagogy of possibility: from blind to transformative optimismCésar Augusto Rossatto; Rowman & Littlefield Publishers 2005WorldCat•LibraryThing•Google Books•BookFinder
Engaging Paulo Freire's Pedagogy of Possibility is a cross-cultural case study of how people experience schooling in relation to their sense of time and optimism. César Augusto Rossatto examines how real-life situations and social structures influence people's construction of notions of possibilities. Positionality, or perceptions about life and projections of the future, has great impact on students' success in school. These perceptions-how they interpret the past, live in the present, and foresee the future-are, in turn, greatly influenced by their intellectual locality. By the same token, how educators see their position in the world and their classroom 'roles' determines their operandum beliefs. The findings of this study suggest that a curriculum based on Freirean critical pedagogy and time theories can be used to enhance time-consciousness values in contemporary social life.
---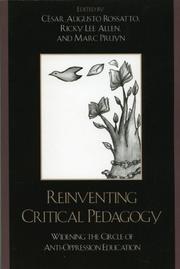 Reinventing Critical Pedagogy: Widening the Circle of Anti-Oppression EducationCesar Augusto Rossatto; Rowman & Littlefield Publishers, Inc. 2006WorldCat•LibraryThing•Google Books•BookFinder
Reinventing Critical Pedagogy offers a fresh perspective from which to read, discuss, and debate recent critical interpretations of schooling and our world at present. The authors build upon past accomplishments of critical pedagogy and critique those elements that contradict the radically democratic orientation of the field. Ultimately, they argue that critical pedagogy needs to welcome a wider representational and ideological base for the oppressed, and that it should do so in a way that makes the field more vital in the preparation for the revolutionary struggles ahead. Reinventing Critical Pedagogy takes a step in that direction because it not only takes to task OexternalO forces such as capitalism, patriarchy, and white supremacy, but also engages the manifestations of these external forces within critical pedagogy itself.
---
The Freirean Legacy: Educating for Social Justice (Counterpoints (New York, N.Y.), V. 209.); Peter Lang Publishing 2002WorldCat•LibraryThing•Google Books•BookFinder
In this collection of voices, one hears stories and discussions grounded in the ideas of one of the most influential teachers and thinkers of our time. The Freirean Legacy offers the reader an opportunity to consider the work of Paulo Freire in terms of three significant perspectives. Michael Apple, Joe Kincheloe, and Ana Maria Araújo (Nita) Freire are among those who share insights and understandings resulting from firsthand experiences with Freire. The theoretical insights into his work and ideas are brought forth in pieces by Peter McLaren, Judith J. Slater, and others. Finally, this book concludes with interpretations of Freire's teachings as applied to praxis by several authors, including Stephen M. Fain and Cesar A. Rossatto. This anthology will serve the initiate well in getting to know Paulo Freire, while at the same time providing the sophisticated scholar with an opportunity to advance the conversation and continue the dialogue.
---
Teaching for global community: overcoming the divide and conquer strategies of the oppressorCésar Augusto Rossatto; Information Age Pub. 2011WorldCat•LibraryThing•Google Books•BookFinder
Education has long been viewed as a vehicle for building community. However, the critical role of education and schools for constructing community resistance is undermined by recent trends toward the centralization of educational policy-making (e.g. racial profiling new laws in the Us-Arizona and Texas; No Child Left Behind and global racism), the normalization of "globalization" as a vehicle for the advancement of economic neo-liberalism and social hegemony, and the commodification of schooling in the service of corporate capitalism. Alternative visions of schooling are urgently needed to transform these dangerous trends so as to reconstruct public education as an emancipatory social project. Teaching for Global Community: Overcoming the Divide and Conquer Strategies of the Oppressor examines these issues among related others as a way to honor and re-examine Freirean principles and aim to take critical pedagogy in new directions for a new generation. The goal is to build upon past accomplishments of Paulo Freire's work and critical pedagogy while moving beyond its historical limitations. This includes efforts that revisit and re-evaluate established topics in the field or take on new areas of contestation. Issues related to education, labor, and emancipation, broadly defined and from diverse geographical context, are addressed. The theoretical perspectives used to look at these emerge from critical pedagogy, critical race theory, critiques of globalization and neoliberalism, marxist and neo-marxist perspectives, social constructivism, comparative/international education, postmodernism indigenous perspectives, feminist theory, queer theory, poststructuralism, critical environmental studies, postcolonial studies, liberation theology, with a deep commitment to social justice.